Victorian Days
On Wednesday, Year 2 were taken back to the Victorian times with an enactment of Alice and Wonderland. The children worked with storyteller Chris Connaughton to learn more about Lewis Carroll and his famous story. We explored writing riddles, the 'ch' challenge, creating shape poems and writing Rebus letters. It was a fantastic day and inspired everyone to get creative with their writing.

London's burning…
Pudding Lane is on fire!  After learning all about the Great Fire of London it was finally time to burn down our Tudor models of Pudding Lane.
Thanks to Mr Hall for kindly giving up his time to talk to the children about fire safety and keeping us safe and the support of Mr Elliott too.  The children watched excitedly as our Pudding Lane went up in flames!

Fire! Fire!

What an exciting morning we had learning all about the Great Fire of Gateshead and Newcastle.

The visit was packed full of interesting facts as we walked around the Quayside, finding out all about the dreadful fire which devastated the area in October 1854. 

We had special visitors come in to school from 'The Royal National Lifeboat Institution' who shared stories and knowledge with us on how to stay safe in water.  We had role play, sea and beach safety, spot the hazards activities, listened to the history of the RNLI and how lifeboat rescues operate.  We had a fantastic afternoon and thank the RNLI for their inspiring visit to our school.

DT – Linked to Grace Darling project

Science week in Year 2
What a fantastic week we've had in Year 2 this week! 
All of the children have shown great enthusiasm and perseverance as well as demonstrating that they can all ask super scientific questions.
From building bridges to big bangs.  Finding treasure (in ice) to making goo.  Developing our engineering skills and constructing marble rollercoasters.
We've certainly enjoyed ourselves and learnt so much along the way. 
We'd like to give a special thank you to Mr Pearce, who kindly gave up his time to visit us and deliver an afternoon filled with learning and excitement. 
Thanks Mr Pearce!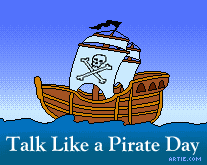 "Ahoy thar me hearties we have had a swashbuckling day for 'National Talk Like a Pirate Day.' Arr shiver me timbers thar she blows!"